Russia unlikely to reduce aggressive spying, analysts warn

Russia Russia unlikely to reduce aggressive spying, analysts warn
Expulsion of agents from the Netherlands will not deter Vladimir Putin, experts say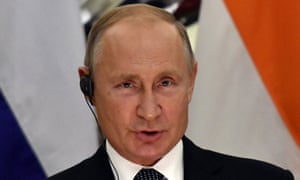 Moscow is unlikely to be deterred from carrying out aggressive foreign spying operations by the embarrassing unmasking of several of its agents in the Netherlands, analysts who study the Kremlin and Russian intelligence services have said.
The sloppy tradecraft of the GRU, the Russia n military intelligence agency, should be cause for concern in the Kremlin, they said, but Vladimir Putin is still likely to take Thursday's public revelations as just the "collateral damage" of his political war with the west.
On Thursday the UK Foreign Office, Dutch authorities and US Department of Justice disclosed information on malicious cyber activities conducted by Russia.
Dutch authorities revealed that with the help of UK intelligence they thwarted an attempted cyber-attack on the headquarters of the Organisation for the Prohibition of Chemical Weapons (OPCW) in The Hague, which included rounding up and deporting four hapless GRU officers travelling on diplomatic passports.
The list of the GRU's diverse targets revealed on Thursday, including the World Anti-Doping Agency, had less to do with traditional military intelligence than with Russia's public image, analysts told the Guardian. They showed how a spy agency founded to support Russia's armed forces had been redirected toward political targets.
Russia accused of cyber-attack on chemical weapons watchdog Read more
"It seems like the only thing they've taken from the military is the idea that they can act like they're at war with no rules," said Andrei Soldatov, the author of The Red Web, a book on Russian internet surveillance, and The New Nobility, on Russia's security services.
The Kremlin was likely to have been ready for the possibility that their operations, carried out in April, would be exposed, Soldatov said. Russia had months to forge an agreement with the Dutch to keep its botched operation a secret, perhaps showing that it did not put a priority on concealment.
And despite the GRU's public embarrassment â€" and possible exposure of other agents because of a leaked car registration database â€" Soldatov and other analysts said they expected the fallout for the spy agency to be limited.
"I don't exp ect any kind of repression against the GRU," Soldatov said. "People are ready to accept these kinds of consequences."
A source close to the Defence Ministry said there had not been reports or rumours of a large shake-up since the spying operation was discovered in April.
"Military people do what they are told, they would not be punished for it," the source, who asked not to be identified, said.
The hope in the west has been that by publicly exposing the GRU operations, Putin could be forced to rein in the behaviour of the spy agency. The coordinated release of information by the UK, Netherlands, and United States on Thursday appeared targeted to name and shame GRU agents in briefings extraordinary for their detail.
But those who follow the Kremlin say that Putin rarely bows to direct pressure and constantly seeks "asymmetric responses" that play to Russia's strengths.
"Putin is very consistent in one thing: he does not believe he makes mistakes," said Maxim Trudolyubov, a well-known columnist on Russian politics and economy. "He is very convinced he is following a path. He's on a mission and it's not going to change."
With a change in the political direction being unlikely, he said, the Kremlin would more likely seek "technical solutions".
"They would just think that they were not up to the task," he said. "They would need better equipment, better people. They would do that. And in time we'll see some kind of improved Boshirov and Petrov." They were a reference to the two Russian agents accused of poisoning Sergei Skripal.
Thursday's briefings allowed curious civilians to Google their way into the lives of active GRU officers, exposing their dating profiles and amateur football clubs.
While the case was embarrassing, said Vladimir Frolov, a prominent foreign policy analyst, it was not as damaging as "a major defection, Poteyev and the illegals in 2010.⠀ That was when Alexander Poteyev, a colonel in Russia's foreign intelligence service, defected to the United States and revealed the identities of Russian sleeper agents there.
"These are just collateral damage," Frolov said of the spies exposed on Thursday. "The issue is not their work, the issue is the tasking. They are not supposed to hack Wada."
The operations appeared rushed, he said, perhaps indicating that agency was given little time for preparation. He predicted limited fallout for the GRU. "There will be some internal investigations but not major firings," he said.
Putin, a former intelligence officer, has been willing to take risks to show his loyalty to the military.
While blasting Skripal as a "scumbag" and "traitor" on Wednesday, he also turned to opine on the necessity of espionage: "What, were battles between special services born yesterday? Everybody knows that espionage, like prostitution, is one of the most imp ortant professions in the world."
The spy games are not going anywhere, he added. "Nobody has shut it down it before and nobody can shut it down now either."
Topics
Europe
Cyberwar
Hacking
Espionage
Netherlands
news
Share on Facebook
Share on Twitter
Share via Email
Share on LinkedIn
Share on Pinterest
Share on Google+
Share on WhatsApp
Share on Messenger
Source:
Google News Russia
|
Netizen 24 Russia